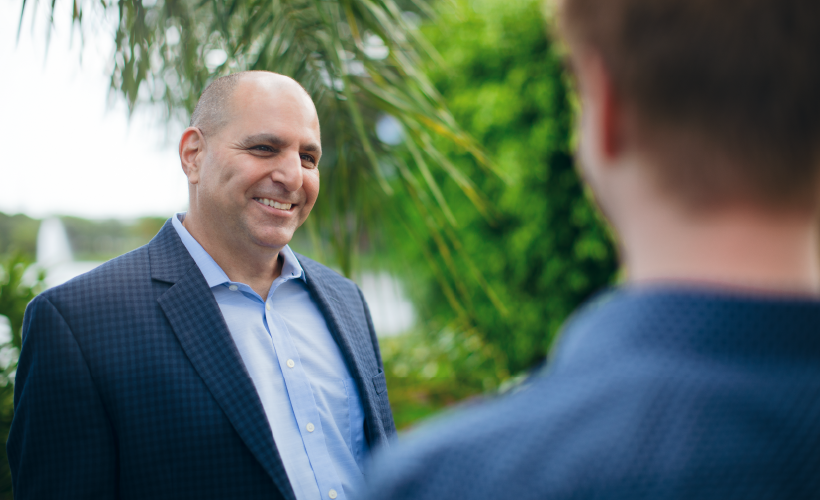 For Christopher Ciano, senior vice president for Aetna Medicare, helping people navigate the health system is more than a professional commitment — it resonates at a deeply personal level.
About three years ago, Ciano's mother had a bad fall and broke her back. Ciano and his siblings finally persuaded his parents to move to Florida to be closer to him. Along this journey, Ciano and his parents had to learn to adapt to their new reality. "It was incredibly overwhelming, for both my parents and me, to go from their living independently to having to rely on others for daily living and medical care," he says.
As the main caregiver for his parents, who are both 91, Ciano has established several anchoring practices to create order in an otherwise unpredictable existence.  "It's been a learning experience," he says. "But it's helped to set an operating environment for my parents and myself, where we established some basic goals, and from there we started to work together to achieve them."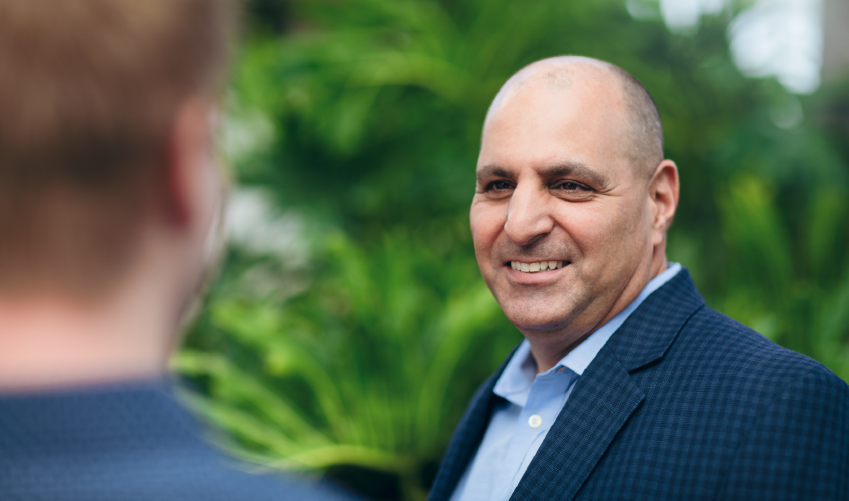 His personal experience has also deepened his commitment to helping the Medicare population. "It's given me perspective and amazing passion to really want to make the health care journey better for our members," he says. "Seeing the health care system through my parents' eyes has been really frustrating and an extremely fragmented experience. I see that we need an interpreter in this process to help them manage all this information."

In a conversation near his office in Florida, Ciano talked with my colleague, Brian Higdon, 37, about what it's like to be both a caregiver to his aging parents and the leader of a large health care organization. As a father of two young children, Higdon is focused on raising his family. But  in the back of his mind he's also considering the future health care needs of his parents, who are both in their 70s. While they're in good health today, he's starting to think about what he can do to help maximize their quality of life as they age.
Here's a snapshot of their conversation:
Higdon: In recent years, I've become more aware that my parents aren't invincible — and that I may need to take on a bigger role in helping them manage their health as they age. I'm curious about your perspective since you not only work in the health care industry — but you've also been caring for your parents. What most surprised you?
Ciano: I can give you an example from my own life: My dad was diagnosed with a brain tumor, and even for someone like me, who has a depth of professional experience in health care, the ability to communicate with doctors and continue to be informed is really challenging. Especially if you work, you can't be there 24 hours a day.
Higdon: Yes, I can imagine that sometimes it can feel like a job in itself staying on top of your parents' health needs.
Ciano: And that's why our members need better outside support. It's just really brought to light how important it is that we continue to improve the system as a whole, and design programs and outreach to wrap our arms around our members to help them live better lives.  At Aetna, for example, we just launched Aetna Community Care, a new program in Florida where we work with members in their home environment. We use the program to connect members to a team of Aetna health and social service specialists in their community. It makes a difference.
Higdon: I'm sure it does. When there are multiple doctors, specialists and caregivers involved, managing all of the moving pieces sometimes seems overwhelming. How do you keep track of it all?
Ciano: I'll tell you one thing that has really made a difference: I created a binder with my parents' basic health information. It includes their lists of doctors, medications, medical histories, health directives, living wills, and copies of their insurance cards. I don't ever leave the house without it. You don't know how many times I've been to the emergency room with my parents and it's proved helpful. The doctors are pretty blown away that I have this level of information at the ready. It helps them better assess my parents' health situation.
Higdon: Wow, that sounds really helpful to have, I'll keep that in mind.
Ciano: That's right — even in nonemergency situations, it helps to have this information when meeting with doctors who might not be their primary care physician. It can save a ton of time and resources, so they have some context on your parents' health and don't run unnecessary tests.
Click to watch Aetna's Christopher Ciano offer more tips for caregivers, drawing from his experience caring for his aging parents. 
Higdon: So how did you talk to your parents about these complex medical issues? Do you have any advice for me?
Ciano: I would say it helps to find a common language. Both of my parents are extremely independent and even though my mother is physically limited in what she can do on her own, she was very stubborn about getting help and changing her lifestyle. I always try to use examples of something my parents can relate to. And it has to be a dialogue. Our members want to remain as independent as possible — not everyone is willing to accept help.
Higdon: Did you eventually convince your mom to accept outside support?
Ciano: Yes, but we had to get creative. My mom has a friend who had a caregiver coming in, and we used that example and how they worked together, and it helped make my mom feel more comfortable. We also used the "let's just try it" approach. There's no strings attached, and if it doesn't work out, we can change the situation.
Higdon: It seems less daunting if you put it that way.
Ciano: I've also used my parents' primary care physician as a communication vehicle. I'll send her an email in advance of our visit saying, "Can you emphasize this, can you talk about this? Can you be stern on this?" And that's tremendously powerful, because it's not coming from a caregiver or a son or a daughter; it's coming from their physician. In my instance, they listen to their physician.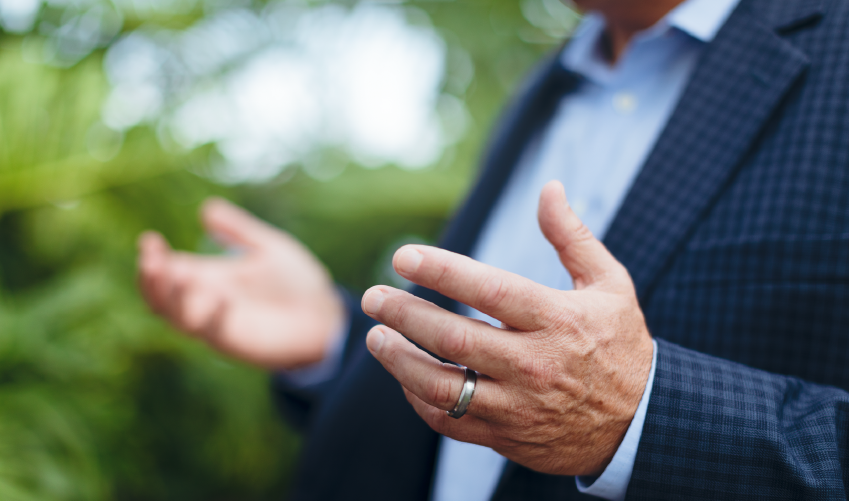 Higdon: They must really like their doctor.
Ciano: Yes, and just constant dialogue among all parties is key. Another thing I do with my parents after medical visits is a recap. I always try to review the exchange with my parents and what the doctor said, whether they got the same message or not. And then if they didn't, we try and talk about that. Therefore, we're gaining an agreement on a game plan.
Higdon: That makes a lot of sense. I've heard that getting access to health care records can sometimes be a challenge for caregivers.
Ciano: It's very important for people to understand that their family member needs to sign a medical release form in order for you to access their records. There's nothing more frustrating than having your parent in the hospital and they have an electronic medical record but you can't access it, right?
Higdon: That's pretty aggravating.
Ciano: It's important to encourage your parents to sign the release forms, if they want you involved. In the case of hospitalizations, some hospitals are starting to post patients' medical information online. With access to it, you can see test results, and see what's going on, even if you can't get to the hospital immediately. I think it's very helpful for all of us to gain access to this information to better understand what is going on. And if you can't access this information online, I'm very diligent about asking for hard copies of medical reports and lab results. Because this can come in handy after the fact, when you're reflecting on things — or at follow-up physician visits.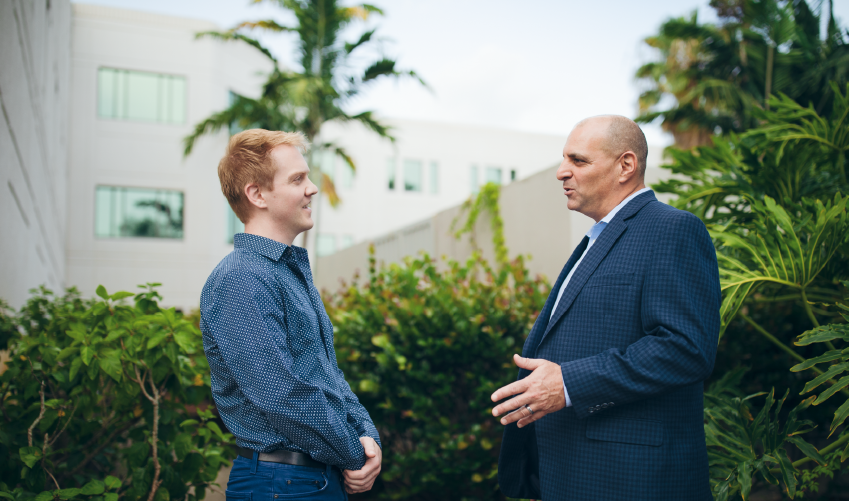 Higdon: That's a really good point about digitization. We're so lucky to be able to have this information at our fingertips, especially if you live really far away from your loved one. My parents live out of state, about five hours away, but thankfully they don't need my support yet as a caregiver. But I have some friends who are caregivers in that situation. How can they provide support from a distance?
Ciano: My advice is to try to get some local help and establish connections with some of the local community resources. Even if it's not help in the home per se, but someone, such as a friend or another relative who can actually check in. It is really important to have someone assessing the environment and making sure that that reality is equal to what you're hearing on the telephone. I started to use Skype with my parents in the later phases when we were living apart, so I can actually see them and talk to them and try to get a better feel for how things were there.
Higdon: So it's been three years now that you've had your parents living nearby. Do you feel like you have a good system now of caring for them?
Ciano: I would say we're very organized and have a strong communications system. We've established a routine to handle everything from their daily medications to their bathing. But what I've learned is that once an event occurs, like a case of pneumonia, our plan sort of gets flipped on its head. And it starts a whole new routine somewhere else.
Higdon: Sounds like we need to be flexible.
Ciano: Yes, I would say we also need to be extremely patient. It's a journey and it may feel completely overwhelming at times, but it will get better. Also continue to be super sensitive to the fact it's not only you involved, but it's also impacting the person, your loved one, in an equal or even more impactful way.