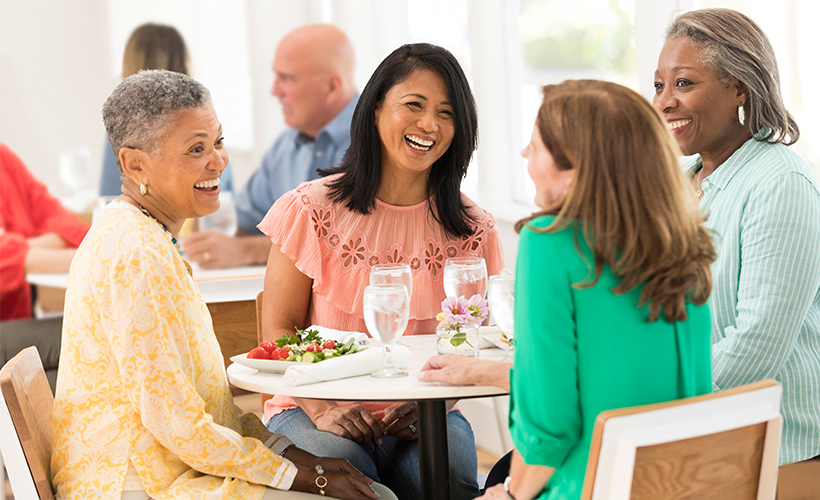 Over the years, you've reached several milestones: Birthdays, weddings, promotions, maybe even grandchildren. Turning 65 is another one of those moments to cherish. Not only are you wiser, but maybe now you're free to travel, pursue your passions and spend more time with family. And those are all things to celebrate. It's also your chance to sign up for a Medicare plan.
But where should you start? First, take a moment to ask yourself: How can my Medicare plan help me live the life I want?
That means considering not only your health needs, like the prescription drugs you take and how many times you need to visit the doctor, but also your personal ambitions.  Do you plan to travel?  Spend more time with your family?  Take up a new activity? 
Take time to consider how you want to spend your time. What are your goals? And your needs?  It all matters when deciding about Medicare.  And of course, your budget makes a difference as well.
Take a moment to ask yourself: How can my Medicare plan help me live the life I want?
Asking yourself the right questions can help ensure you're on the right path as you take the next step in your journey. Since coverage options vary by plan, you want to make sure to get the coverage that meets your needs.
Here are some things you should consider:
1.      What do extra benefits, such as vision, dental and hearing coverage, have to do with reaching my health goals?
Do you want to speed-read your way through your favorite author's latest novel? Or are you dreaming of the moment you hear your granddaughter's first coos? You want to make sure nothing gets in the way of living each moment to its fullest. And that means protecting your vision, maintaining proper oral health and keeping track of any changes in your hearing. Always consider your current and future needs as you sift through your coverage options: 
Original Medicare (Parts A and B) doesn't provide comprehensive vision, dental or hearing coverage. You'll  have to pay for those services in full, with a few exceptions. If you have Original Medicare and want vision, dental and hearing benefits, you'll need to buy a separate plan to cover them.  
Many Medicare Advantage plans include vision, dental and hearing coverage. They're offered through private insurers. Coverage and costs vary, so you'll need to evaluate whether you just need routine care (like cleanings and screenings), or coverage for procedures and supplies (like dental implants and contact lenses). Learn more about the differences between Original Medicare and Medicare Advantage here.
Some Medicare Supplement plans may also offer extra benefits like dental, hearing and vision.  Learn more about how to supplement your Original Medicare coverage here. 
2.      Do I want the flexibility to see any doctor?
Finding the right doctor is an important part of your health care journey. So if you're considering a Medicare Advantage plan, you should know that some require you to see primary doctors and specialists in their network. Others will allow you to choose any doctor, but at a higher cost. You'll need to weigh whether sticking with your current doctors, even if they aren't in the network, is more important than the benefits you may get from an in-network provider. Often the network allows for better coordination of care between doctors, which can help you better manage your health care.
In contrast, Original Medicare is a national plan that doesn't restrict which doctors you can see, as long as they accept Medicare. For instance, if you live six months of the year in New Jersey, and the other six in Florida, you'll still be able to see doctors in both places. Since those doctors may not all be part of the same network, it might be harder for them to share information about your care, leaving you to do more of the legwork. And generally, Original Medicare doesn't limit how much you pay for covered medical care each year. Learn more about how a Medicare Supplement can help you with additional expenses.
Here's what you need to know:
Medicare Advantage HMO plans require you to stay in the network and get referrals to see specialists. There are some exceptions for emergency care or out-of-area urgent care. These plans may have lower copays and monthly premiums.
Medicare Advantage PPO plans may have higher monthly premiums, but will give you more flexibility to see doctors outside of the network without referrals.
If you're planning to travel abroad while receiving Medicare benefits, be sure the plan you choose can travel with you. In general, Original Medicare does not cover expenses outside the United States and its territories. There are a few exceptions, however. For instance, if you get sick in the U.S. and a foreign hospital is closer than one in the U.S., Medicare may pay some of your medical bills.
Tip: If you travel frequently within the U.S. or plan to spend time away from your primary residence, check your plan's network. Be sure you'll have access to doctors that participate in your Medicare Advantage plan in the location you'll be visiting.
3.      Do I plan to travel outside the United States?

If you want guaranteed international coverage, it's best to supplement your coverage.
Some Medicare Supplement plans may cover medical services or supplies that you get outside the U.S. if you receive care within the first 60 days of your trip.
Medicare Advantage plans may cover emergency medical treatment outside the U.S. Not all plans are the same, so check with your plan representative before you leave the country.
4.      Do I need prescription drug coverage if I'm not taking a lot of medication?
You may feel healthy now, but if want to stay that way, sometimes you might need to take medicine. If your doctor writes you a prescription, generally Original Medicare won't cover it. So  you'll need to add a separate prescription drug plan. However, if you'd rather have just one plan, you can buy a Medicare Advantage plan that includes prescription drug benefits. When choosing any of these plans, here are some things to consider:
What drugs does my plan cover? How much will they cost? Each Medicare drug plan has its own list of covered drugs, known as a formulary, that places different prescriptions into pricing tiers.
What happens if my plan doesn't cover my medication? In some cases, your medication won't be on the formulary. Your doctor can request an exception from the plan to add it to the list.  If the plan grants the exception  you'll generally pay the highest pricing tier.
Can I use the pharmacies I want? All Part D plans have a network of pharmacies that you can use to fill your prescriptions. Some  plans have a list of preferred pharmacies where you can save even more.  
5.      Do I want to juggle multiple Medicare plans?
This is a busy time and you may be making a lot of changes in your life. Maybe your goal is to simplify things. If you're not interested in adding a Medicare Supplement and prescription drug plan to your Original Medicare coverage but would rather have all your benefits in one place, you have an option.
Medicare Advantage plans, offered by private insurers, combine your hospital coverage (Part A) with medical coverage (Part B). Most plans include prescription drug coverage and offer coordination of care through their networks. One thing you'll need to consider, though, is whether you should choose a Medicare Advantage plan that's structured:
Like an HMO, where you can only see doctors in a select network and might need referrals
Like a PPO, where you'll have more flexibility to see doctors outside the network at a greater cost
Now that you've considered these questions, you're more prepared to pick a plan that will support your health needs. Then you can get back to doing the things that make you happy.
About the author
Christina Joseph Robinson is a veteran editor and writer from New Jersey who still loves to read the old-fashioned newspaper. She's raising two fruit-and-veggie loving daughters to balance all the treats Grandma sends their way. Christina's health goal is to resume her workout routine after being sidelined by injuries.