Forty percent of those over 65 take five or more medications a day.1 It's a staggering number, but it underscores the necessity of prescription drug insurance coverage. That's why almost 74 percent of people who are on Medicare — or nearly 44 million people2 — are enrolled in a prescription drug plan.
As you figure out the best plan for your needs, here's what you need to know about prescription drug coverage.
What does Medicare Part D cover?
How do I get Medicare prescription drug coverage?
There are two ways to get prescription drug coverage.
You can enroll in a stand-alone Medicare Part D plan. This coverage will be in addition to Original Medicare (Parts A and B) and/or a Medicare Supplement plan.
You can enroll in a Medicare Advantage (Part C) plan that includes prescription drug coverage. This coverage will combine your medical and prescription drug coverage.
Tip: If you don't enroll in prescription drug coverage when you're first eligible to enroll in Medicare, you may face penalties. Find out how to avoid penalties.
Can I switch Part D plans if my prescription needs change?
Each year everyone can change their Medicare plan during the annual enrollment period (October 15 – December 7). Read about enrollment periods. 
There might be exceptions to these timelines if you qualify for extra help paying for prescription drug coverage. Learn about your options for assistance with Medicare costs.
What prescription drugs are covered by Medicare Part D?
Every Medicare prescription drug plan has a list of drugs — also known as a formulary — that it agrees to cover. When you research a plan, check your list of medications against the prescription drugs on your plan's list. You'll also be able to see which "tier" it's been placed into. Generally, the lower the tier, the less you pay. For example, you will often pay less for a drug in Tier 1 than you would in Tier 4. The Medicare Plan Finder is a useful comparison tool you can use to plug in the names of prescription drugs and find plans in your area that will cover them. View the Medicare Plan Finder.

Formularies will include both brand and generic drugs.  Generic drugs have been deemed as safe and effective as brand-name medications by the Food and Drug Administration. Check with your doctor to see if a generic prescription drug is right for you.

Your plan will not remove any drugs from its formulary or negatively alter a drug's tier until the start of the new plan year, unless there's an extenuating circumstance, such as a recall.
How do I read a formulary?
Your formulary will give you the information you need to know about your drug, such as name, drug tier and requirements or limits.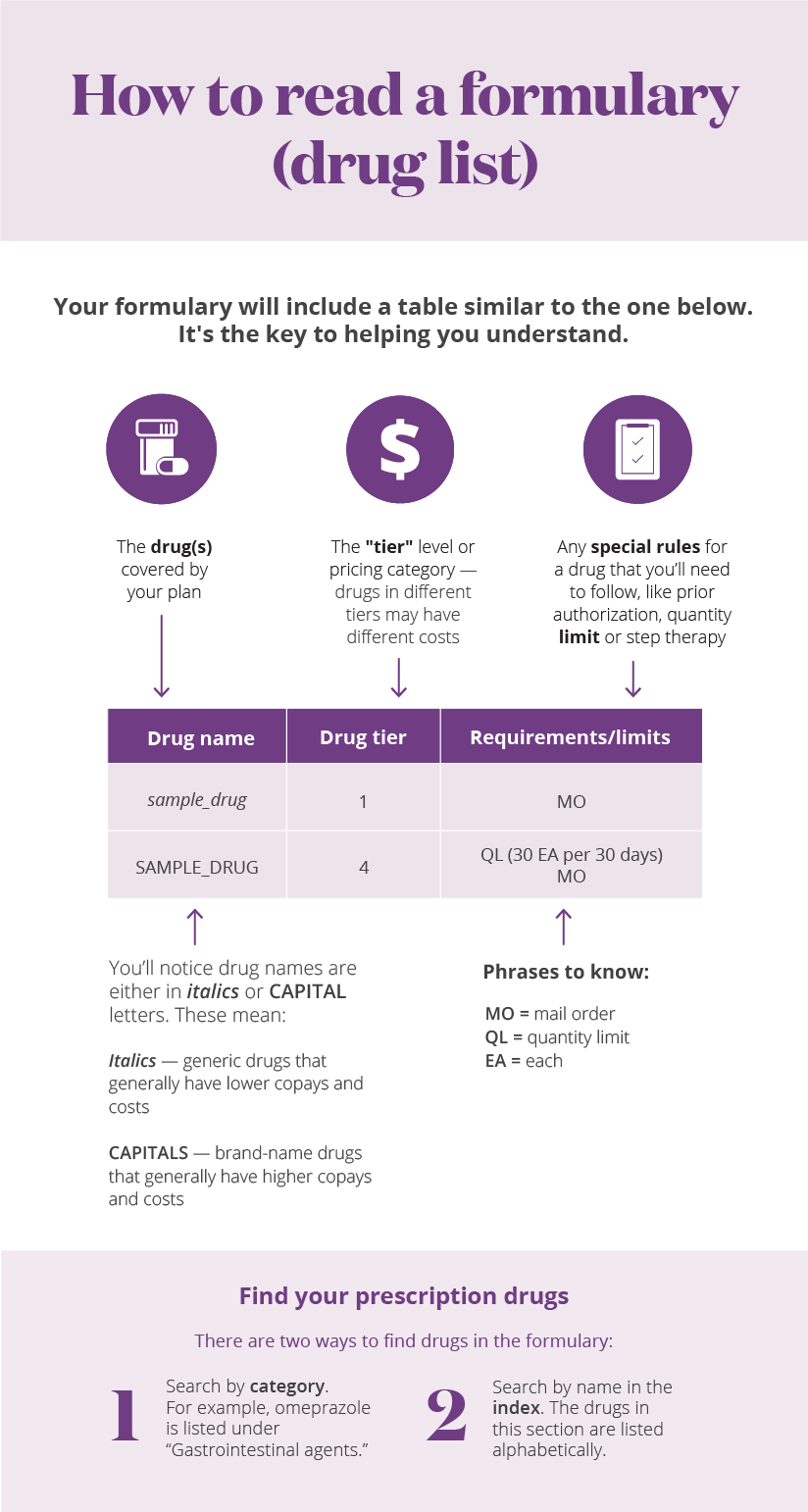 How to read a formulary (drug list) 
Your formulary will include a table similar to the one below. It's the key to helping you understand.  
 The drug(s) covered by your plan  
The "tier" level or pricing category – drugs in different tiers may have different costs  
Any special rules for a drug that you'll need to follow, like prior authorization, quantity limit or step therapy 
Drug name
Drug tier
Requirements/limits
Sample_drug
1
MO
SAMPLE_DRUG
4

QL (30 EA per 30 days)  

MO 

 
You'll notice drug names are either in italics or CAPITAL letters. These mean:  
Italics – generic drugs that generally have lower copays and costs 
CAPITALS – brand-name drugs that generally have higher copays and costs  
 Phrases to know:  
MO = mail order 
QL = quantity limit 
EA = each  
Find your prescription drugs 
There are two ways to find drugs in the formulary:  
Search by category. For example, omeprazole is listed under "Gastrointestinal agents." 
Search by name in the index. The drugs in this section are listed alphabetically. 

What happens if my prescription drug isn't covered?
Medicare mandates that there be at least two drugs from every therapeutic class in a formulary. But in some instances, you may need a drug that just doesn't make the list. If that happens, your doctor can contact the insurance company to request what's called a "formulary exception." Your plan will review the request to see if they'll cover it. Typically, if the drug is approved, it will be provided to you at the cost found in one of the top tiers, such as tier 4 or 5, which means you will usually be responsible for a higher percentage of the cost than if the medicine was in a lower tier.
How much will my prescription drugs cost?
What is the "donut hole"? 
 The "donut hole" refers to a gap in coverage, during which you may have to pay more for your prescriptions drugs. Some members may have supplemental coverage to help lower prescription drug costs. Here's a look at how the "donut hole" works:  
 Once you and your drug plan spend $4,020, you enter the "donut hole" or coverage gap.  
 While in the "donut hole," you may pay 25% of the total cost of brand name drugs and up to 25% of the total cost of generic drugs until your total costs reach $6,350.  
 After you reach $6,350, your plan will contribute more toward your prescription drug costs.  
 * All dollar amounts reflect 2020 Medicare policies.
Several factors determine how much you will pay for your prescriptions.
The plan you choose. Each plan sets its own cost-sharing by tier. Check with your plan about incentives, such as discounted pricing on 90-day supplies.
Whether your pharmacy is inside your plan's network. Generally, you need to use a pharmacy in your plan's network for the medication to be covered. Some plans have preferred pharmacies where you could save even more.
Whether the drug you take is on the formulary (list of covered drugs). Generally, plans will only cover medications if the drug is on their formulary.
What tier your medication is on. Plans place their drugs on different tiers which determine costs. Generally, the lower the tier, the less you pay.
Whether your plan has a deductible. With a deductible, you pay for the full cost of your medication until you've met the deductible amount.
Whether you qualify for additional subsidies. There are programs available to help people with limited incomes pay prescription drug costs. Learn how you can get assistance.
Your payments may vary throughout the year, depending on how much you have already spent on prescription drugs. Your cost-sharing will depend upon the benefit phase you have reached in your coverage.
What is the "donut hole"?
Medicare prescription drug plans have a phase called the coverage gap or "donut hole." When you reach this phase your cost-share may change based upon the type of drug(s) you are taking.
Here's an example of how it works:
Are there special rules I need to consider?
Some prescription drugs require that you adhere to special rules before your insurer will cover them. For example:
Step therapy: If this is the first time you're taking a drug, you may be required to start with a more cost-efficient version before you can move onto a more expensive medication.
Prior authorization: Your doctor will need to get approval before the plan will pay for a drug.
Quantity limits: Certain drugs, such as opioids, will have limits on the number of doses and/or refills that your insurer will cover. 
Your formulary guide will tell you which drugs require step therapy, prior authorization and quantity limits. If your medication falls into any of these categories, you may need to take action before the plan will cover the drug. Check with your doctor about your options.
How can I maximize my prescription drug benefits?
If you want to get the most out of your prescription drug benefits, check with your plan to see what extras it offers.
Use in-network pharmacies. Find out which pharmacies are in your network and if using a preferred pharmacy can save you money. 
Order 90-day supplies. Some plans will offer incentives if you order a 90-day supply of medicine. Even if the price is the same, it'll mean fewer trips to the pharmacy and less chance you'll miss a refill.
Opt for home delivery. Your plan may offer a home delivery option for prescription drugs. Check to see if there's an incentive for ordering your medication through the mail. For example, some Medicare Advantage plans through Aetna offer lower costs on mail-order prescriptions as a way to keep members compliant with their medication.
Research your plan options thoroughly based on your prescription drug needs, costs and convenience. You don't want to be saddled with unnecessary drug expenses, so finding the right plan for you at the right price means one less thing you'll have to worry about.
About the author
Christina Joseph Robinson is a veteran editor and writer from New Jersey who still loves to read the old-fashioned newspaper. She's raising two fruit-and-veggie loving daughters to balance all the treats Grandma sends their way. Christina's health goal is to resume her workout routine after being sidelined by injuries.