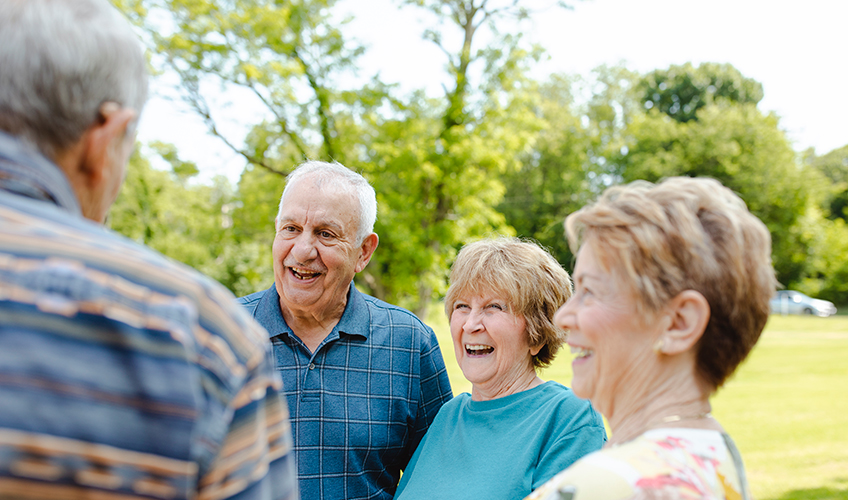 Becky and Bob Chiocca are doing retirement their way. That means riding around their five-acre property in Venetia, PA, on "his and hers" tractors, making sure every corner is neatly trimmed and no weed goes unwacked. It means volunteering in their community, where Becky, 76, assists at a children's equine therapy program while Bob, 78, belongs to a group that helps the homeless. It means regular trips to their local gym and spending quality time with their grandchildren.
And it means getting the most out of their Medicare Advantage plan.
"Our Aetna Medicare plan has great coverage in our area. It has a fitness plan. And you don't have to worry as much about your finances because of its reasonable copays," Bob says. "It gives you such a level of comfort."
But while the Chioccas are thrilled with their Medicare plan today, they admit that their journey to finding the right coverage wasn't exactly an easy one. They're sharing their story in hopes that others learn from their challenges and find the Medicare plans that are right for them.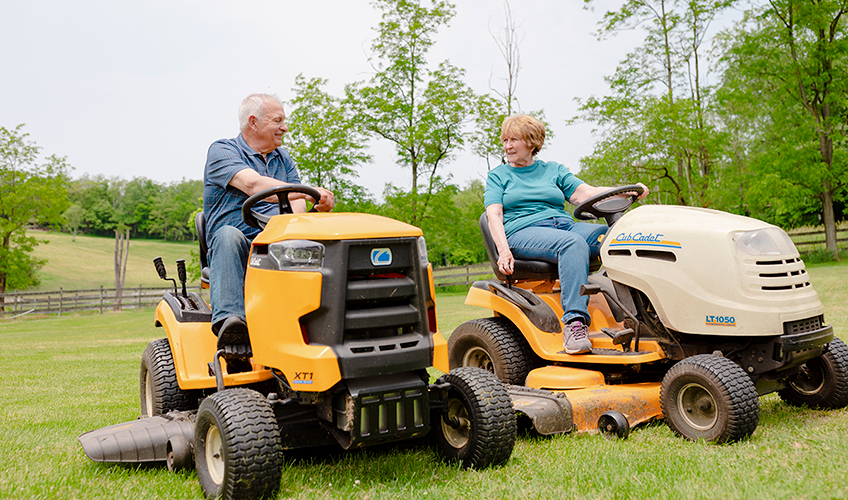 "If you're just starting to look at Medicare, it can be overwhelming," Becky says. "But we want to make sure people understand what they can get."
Starting early
Bob, who is a couple of years older than Becky, was the first to become eligible for Medicare.  But early on, Becky took charge of researching her husband's Medicare coverage options. "She became an absolute wizard when it comes to looking at Medicare Advantage plans," Bob says.
But for Becky, it wasn't exactly a magical experience. There were, after all, so many more choices to consider, in sharp contrast to the plan options often offered by employers. "When you're with a company, there might be two or three plans and that's it. It's a no-brainer," she says. "When you're on your own, it's a different story."
Becky started her research early, when Bob was still 64 and months away from enrollment. As it turned out, she needed the extra time.
Sorting through Medicare plans
Becky looked up various insurance companies online and asked eight or nine plans to mail information to her home. But she wasn't prepared for how big the mailings would be. "I just remember piles of paper everywhere," she says. "I had stuff all over the living room, then the dining room, and then the kitchen."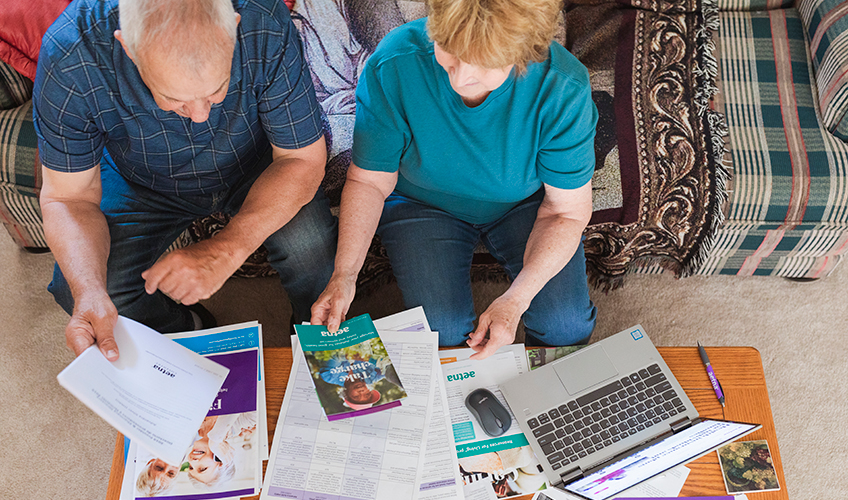 Becky said that if she could do it all again, she would concentrate much of her attention on one-sheet summaries most plans provide. "What I like about the single sheet is that they take very confusing information and summarize it so the important benefits are easy to see and compare with other plans," she explains.
Switching Medicare plans

Becky and Bob ultimately narrowed Bob's choices to the two best-known Medicare plans in their area. Of the two, they selected the plan with the lower monthly plan premium. After Becky became Medicare eligible, she joined the same plan.
But that wasn't the end of their Medicare journey. After costs in the plan rose and they realized the plan's provider network didn't include the exact doctors they would have liked, they began shopping around for another plan. They switched to a different plan, but soon encountered the same obstacles.

It was a broker who recommended they check out the Advantra Silver HMO plan, one of the Medicare Advantage plans available in their area. He explained that while costs were lower, the benefits the plan offered were comparable. Becky and Bob were delighted to discover the breadth of the plan's network, with providers available across three states. "We did so well with the new plan because we know we are covered with excellent doctors," Becky says.

Help from a representative
Becky and Bob chose their new Medicare plan after working with an independent insurance agent. But they still wanted to be as informed as possible. They learned through an advertisement in their local newspaper that an Aetna representative would be holding an informational meeting in their area.
The meeting, they say, exceeded their expectations. Jim, the representative who hosted the event, "takes time and explains things," Becky says. "He takes it step-by-step and takes questions, any questions at all. He'll explain what's involved, what plans you can get, how much it costs, what your coverage is."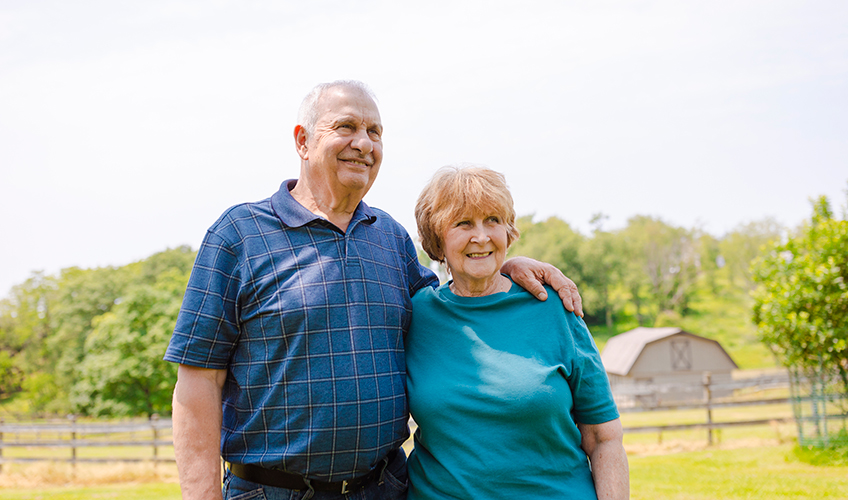 At the meeting, attendees could peruse materials that often aren't mailed home. Becky remembers that she and others were especially interested in booklets outlining drug coverage and in-network medical providers. "You can make sure that your doctors are covered, because those of us with Medicare want to see it in writing," Becky says.
Becky and Bob also connected with others at the meeting. "We talked to other people about the plan and how much we all liked it," Becky said. Though Becky and Bob had already enrolled in the Medicare plan of their choice, others at the meeting were able to enroll with the representative's help in about 10 minutes.
Finding more positives about their Medicare plan
The very first time they switched plans, the couple focused on the money they saved. But when Bob was diagnosed with prostate cancer, they realized how important it was to have a strong network of physicians and other providers at their disposal. Testing related to Bob's condition was performed at the renowned Cleveland Clinic in Cleveland, OH.
"There's an abundance of excellent doctors and hospitals there," Bob said. "It's a high level of care, and it's wonderful."
They're also big fans of the SilverSneakers® program. It allows members to gain membership to thousands of gym and fitness clubs across the country for free. The program is included as part of their Medicare Advantage plan. Exercising regularly at their local gym gives them the energy they need to maintain their busy lives.
In fact, the couple say their active lifestyles and the health care they receive through Aetna are what's helped them stay healthy all these years. "We've had a wonderful life, and that's why health is so important to us," Bob says. "We want to keep this great life going as long as we can."
About the author
Alice Gomstyn is a veteran parenting blogger and business reporter. She is an admitted sugar addict but plans to cut back on the sweet stuff and load up on veggies like never before. Bring on the broccoli!