After months of research, monitoring deadlines and successfully signing up, you're now an official Medicare member. Congratulations!
But your enrollment journey may not be over quite yet.
There are still several steps you can take to make the most of Medicare regardless of the coverage you choose.  Here are a few key items to scratch off of your to-do list.
Be mindful of when your coverage begins
Medicare coverage doesn't automatically kick in the day you turn 65. It all depends on when you signed up.
Most people sign up for Medicare around their 65th birthday, which is known as the Initial Enrollment Period (IEP). This is a seven-month period that includes the:

Three months before your birthday
Month of your birthday and
Three months after
Learn more about your Initial Enrollment Period.
If you sign up during the first three months of your IEP, your coverage begins on the first day of the month of your 65th birthday. One exception: If your birthday is on the first of the month, your start date will be a month before your birthday month.
If you sign up during your birthday month or in the three months after, check out the chart below to find out the date your coverage begins.
If you qualify for a Special Enrollment Period (for example, your coverage from an employer ends), coverage begins the first day of the month after you enroll.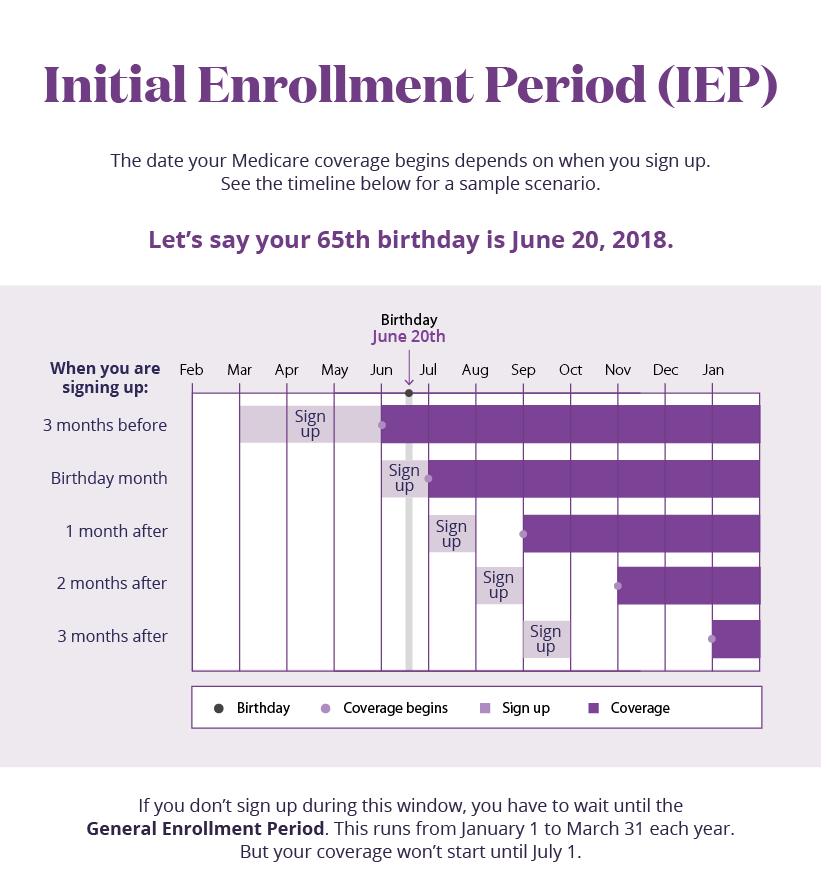 Initial Enrollment Period (IEP)
The date your Medicare coverage begins depends on when you sign up. See the timeline below for a sample scenario.

Let's say your 65th birthday is June 20, 2018.

If you sign up for Part A (if you have to buy it) and/or Part B in this month


| | |
| --- | --- |
| The month you turn 65 | Your coverage starts 1 month after you sign up |
| 1 month after you turn 65 | Your coverage starts 2 months after you sign up |
| 2 months after you turn 65 | Your coverage starts 3 months after you sign up |
| 3 months after you turn 65 | Your coverage starts 3 months after you sign up |

If you don't sign up during this window, you have to wait until the General Enrollment Period. This runs from January 1 to March 31 each year. But your coverage won't start until July 1.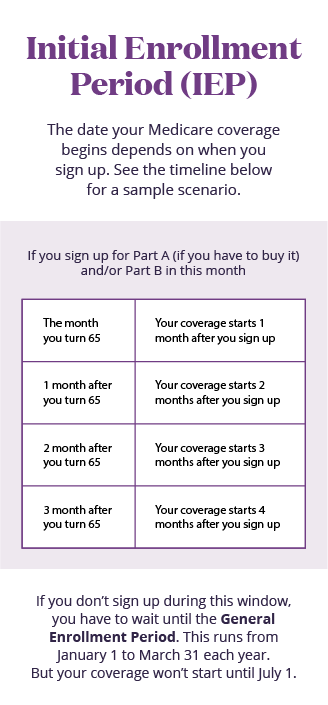 Pay attention to when you receive your Medicare card
Everyone who enrolls in Medicare receives a government-issued red, white and blue Medicare card. If you're automatically enrolled in Medicare, you'll get your card in the mail about three months before your 65th birthday. If you sign up for Medicare during the IEP, you should receive your card within 30 days of being approved.
If you have a Medicare Advantage (Part C) or prescription drug plan (Part D), the private insurer who administers each plan will send you separate cards. Your plan ID card will be your main card for these services. You'll receive this card shortly after signing up. Contact your insurer for more details. 
Set up a "Welcome to Medicare" visit with your doctor
The "Welcome to Medicare" visit is a free, one-time checkup available within the first 12 months of signing up for Medicare. During the visit, your doctor will record your vitals (height, weight, blood pressure, body mass index and vision), gather your personal and family health history and check risk factors for certain diseases. The purpose of the visit is to serve as a baseline for your annual wellness checkups. And to give you an opportunity to prepare a health plan to reach your goals. The visit may also include screening for depression, and referrals for counseling as appropriate.
What to bring to your initial visit:

Medical records (including immunization records)
Family health history
List of any prescription drugs, over-the-counter drugs, vitamins or supplements that you currently take
Understand your Medicare coverage costs
Signing up for Medicare is a great step toward achieving your health goals. But remember that Medicare doesn't cover everything. As you budget for out-of-pocket costs, keep the following tips in mind:
The total cost you'll need to shoulder will depend on several factors like:

Which Medicare coverage you choose
How often you go to the doctor and use other services
Whether your health needs require hospitalization


Medicare costs may change annually, so it's important to read your plan's annual documents every year to decide if your current coverage meets your needs.
If you have a limited income, find out if you qualify for Medicaid or other financial assistance to help cover your health care and/or prescription drug costs. Learn more about financial assistance.
Read your Evidence of Coverage
Medicare Advantage and prescription drug plans have an Evidence of Coverage document.  It details what benefits are covered and what your costs will be. Be sure to read it fully to see if it will meet your health care needs for the next year. Plans have the Evidence of Coverage available online. So check with your plan insurer for more information.
About the author
Sachi Fujimori is a writer and editor based in Brooklyn who focuses on writing about science and health.  A good day is one where she eats her vegetables and remembers to live in the moment with her baby girl.