As a young family physician, Dr. Robert Mirsky made sure his patients were physically healthy, focusing on their ailments and the biological factors that made them sick. It's what he learned in medical school. That was 20 years ago. Doctors now know there's more to the picture when it comes to the totality of your health. There are psychological, environmental and social factors that may contribute to a person's illness. As a doctor, it's about understanding and addressing all the patient's needs together.
In his role as vice president, medical operations, and chief medical officer for Aetna Medicare, Mirsky keeps that approach front and center as he works to make sure Aetna members get high-quality care. He says it's no longer about solely focusing on people who are sick, but on engaging people throughout their health journey.   
Total health and wellness is at the heart of what you should be looking for.
It's why health care professionals today are reaching out to people who are generally healthy and promoting a more holistic approach to health and wellness — body, mind and spirit. And it's why Medicare is moving to address the everyday issues that may impact your health, such as transportation, nutrition and housing. It's all part of what you should keep in mind as you evaluate your Medicare coverage options. You want a Medicare plan that helps you reach your health goals, whether you're managing arthritis, training for a marathon — or trying to keep up with your grandkids. 

Mirsky says his position as chief medical officer is fulfilling because it allows him to step back and take a more holistic view of the populations he serves. "A person's ZIP code has more impact on their health outcomes than their genetic code," he says.  "And I've really come to understand the social and environmental factors that have an impact on the health and well-being of the people we serve."

After speaking with Dr. Mirsky, I thought my 69-year-old aunt, who's very active and enjoying her retirement years, could really benefit from his insights on how to use Medicare to achieve her health goals. My aunt, Alma Joseph, is a retired public administrator from New Jersey, who shows no signs of slowing down — and intends to keep it that way. She has been spending her retirement years traveling the globe with her husband. And when she's stateside, she works out daily at her local gym.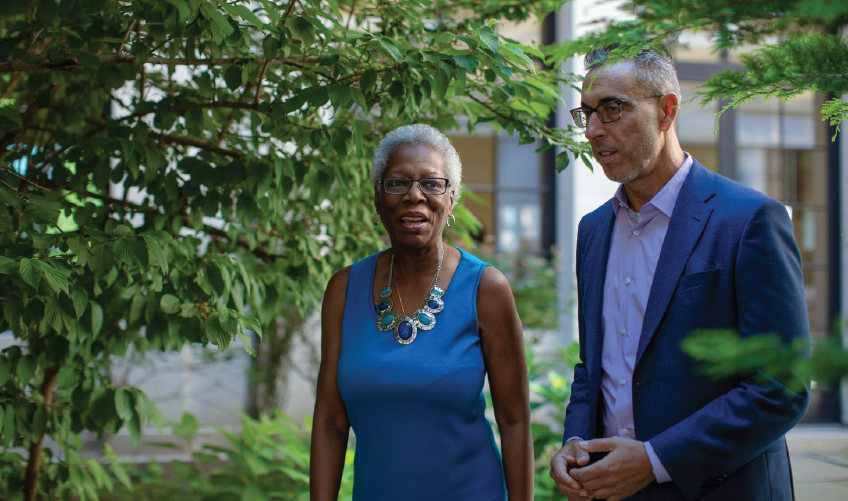 Aunt Alma was eager to get a chance to spend a few moments with Dr. Mirsky so she could learn more about wellness programs that might be offered through Medicare and how to maintain her quality of life. They chatted over coffee in the courtyard outside his office in Hartford, Connecticut. Here are some highlights from their conversation.
Alma Joseph: I'd love to get some advice from you about how to get the most out of my Medicare coverage. 

Dr. Robert Mirsky: Whether you're new to Medicare or already enrolled, you'll want a plan that helps you achieve your best health and is designed for what your goals are at each stage of your life. No matter how healthy you are, total health and wellness are at the heart of what you should be looking for. To get started, write down your goals and consider what you're looking to achieve in the next few years.

Joseph: I never thought about using my health insurance to stay well and achieve my overall goals, but it makes sense. I love to work out and want to stay active into my golden years. Are there ways to use my plan to cover things like fitness and gym memberships?
Mirsky: Absolutely.  Some Medicare Advantage plans offer access to fitness benefits like SilverSneakers®. It's a fitness program where you get unlimited access to more than 14,000 gyms and fitness centers. Some programs even offer yoga and dance at parks, recreation centers and clubs. Learn more about SilverSneakers®.
Joseph: That is really helpful, thank you. Some gym memberships can be really expensive, so it's nice to know that there are more budget-friendly options. Are there resources to help me and my husband put together a more tangible plan so we can remain active and continue to pursue our travel goals?

Mirsky: That is a good question. Check and see if your Medicare plan offers a healthy lifestyle coaching program. That's when you can talk with a health coach and get support with things like stress management, nutrition or quitting smoking — even losing weight. For the tech-savvy, some plans even offer online tools. You can use them to find resources to make healthier decisions or manage any of your conditions.
Joseph: I keep hearing about care managers. Can you explain what they do?
Mirsky: When I was practicing family medicine, we didn't really focus on all the external issues that can impact a patient's health. But now, we assess everything that's going on in your life, your total health and wellness. That's where care managers can help. They work with you and your physician to create a care plan centered on your health goals. They'll ask you, "What are your health ambitions?" and "What's important to you?" It's about getting to know you well so your care manager can create a personalized plan that is realistic. And one you feel invested in. 

Joseph: That makes sense. If I had a care manager, what types of services might be included in my care plan?  

Mirsky: It depends on what you need. For example, your care manager can recommend nutrition counseling or go with you to the doctor. They might even notice whether you're feeling depressed and refer you to a behavioral health specialist.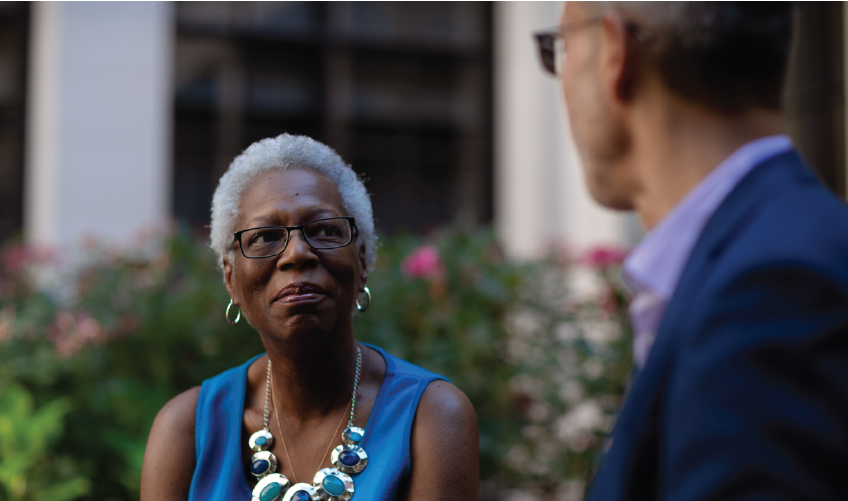 Joseph: That really sounds amazing. Can everyone get a care manager?
Mirsky: Not always. First, you need to qualify. For example, at Aetna, we will use data and referrals. So we'll look at claims, lab results, your prescription drug usage and in-home assessments from nurse practitioners. If it looks like you'll benefit from the extra support, we'll assign a care manager.

But regardless of whether you qualify for a care manager, we have resources to offer you guidance. We'll work in coordination with your physician to make sure you have access to some level of support for medical conditions, social and behavioral health needs through various tools and programs like Resources For Living®.
Joseph: Do all Medicare plans offer care managers?

Mirsky: No. So if you think you'll need one, look for a plan that offers you the chance to meet with one. It's better if you can sit down with them face-to-face, preferably in your home, but even your local senior center works. It's important for the nurse evaluating you to get an inside look at your life and health and everything that influences it.  
If you were enrolled in a plan that assigned you a care manager, for example, they would know that you're a vegetarian and could help you find a farmer's market close by. They could even take you there to pick out fresh fruits and vegetables and help you plan your meals.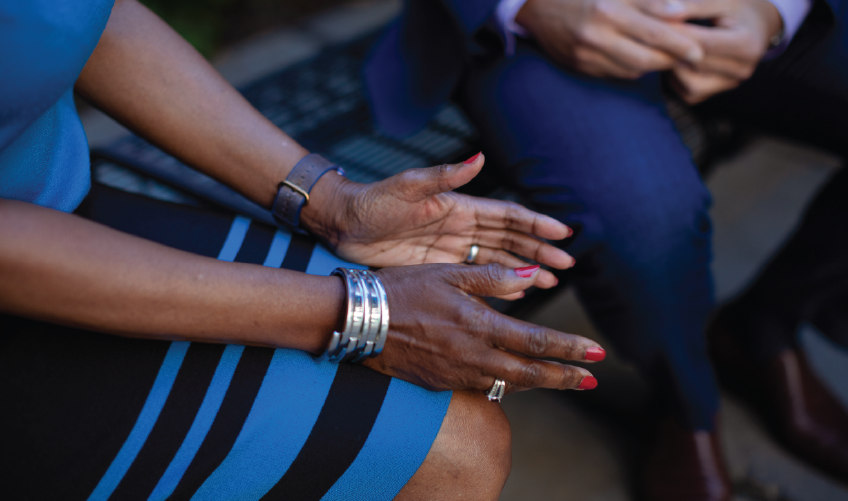 Joseph: OK. Going back to what's included in the plan, if I'm ever faced with dealing with more than one medical condition, can Medicare help me manage it all?
Mirsky: That's the key. You want a plan that's not just looking at your specific conditions, but how those conditions can lead to problems later on. And that's what care management is all about. It's the chance to bring together an entire team — from pharmacists and social workers to behavioral health specialists and community-based providers.
Hear more from Aetna's Dr. Robert Mirsky about the connection between body, mind and spirit and why it is critical to healthy aging. Click to watch.
Hear more from Aetna's Dr. Robert Mirsky about the connection between body, mind and spirit and why it is critical to healthy aging. Click to watch.
I've experienced the need for this coordination first-hand with guiding my own parents along their health journeys.  If they had the benefit of a care manager and a whole multidisciplinary care management team, they would have had the resources they needed to be cared for in their home instead of in institutions, hospitals and skilled nursing facilities. It would have all been far better orchestrated.
We need to look at the unique characteristics of each individual, and make sure we're looking holistically across your personal spectrum of health and wellness. 
Joseph: So what does that look like exactly?
Mirsky: I'll give you an example. Let's say you have a Medicare Advantage plan. We can communicate with the entire care team. For instance, if you get your weight and blood pressure checked at your local pharmacy, they can alert your doctor if there's anything wrong. You can even see someone in their retail clinic. Your physician can also use an online program to see if you're filling your prescriptions as directed. It's all part of our effort to meet you where you are in your health care journey.
Mirsky: It's great news. The Centers for Medicare & Medicaid Services, which runs the Medicare program, will now allow insurers to identify your circumstances, like whether you have access to transportation, live on a fixed income, don't have a grocery store near you, and other non-medical areas where you'll need support. The new benefits take effect next year. At Aetna, we've been doing some of this already. Through our Resources For Living program, for example, we often conduct a holistic assessment of each patient. If you're an Aetna Medicare member, learn more about how to access Resources for Living support and services here.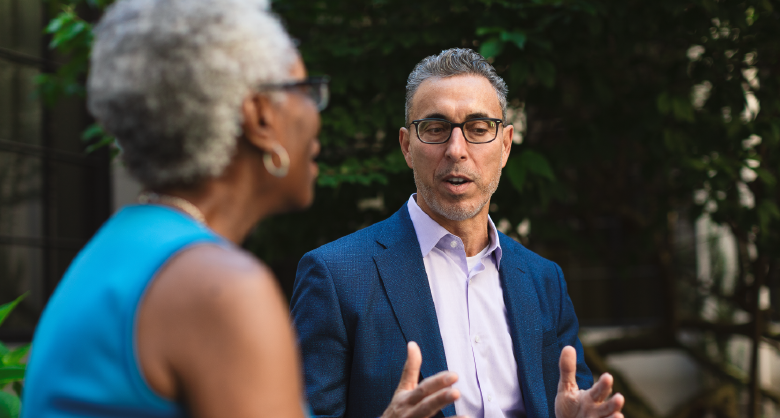 Joseph: It's reassuring to know there will be guidance and support along the way — I could use it!  Speaking of which, I read an article recently about Medicare announcing new benefits that I didn't expect. Can you tell me more?
Joseph: So if I'm ever unable to drive, my Medicare plan might pay my fare to see the doctor?

Mirsky: In some cases, yes. Let me give you an example of how it works. Take Mary. She's 76, a widow, lives alone and has hypertension and congestive heart failure. Mary's a little unsteady on her feet. She has throw rugs in her living room and she has to step up to get into the tub and shower.
Joseph: Yikes, I'm already worried she's going to fall.
Mirsky: Me too. Her doctor suggests she come in to check her blood pressure, but she misses the appointment because she can't get there. Under the new Medicare rules, a nurse can refer Mary to a care manager. This is where it all comes together. The nurse can arrange for covered home modifications like grab bars in the bathroom to prevent a fall.
Now, remember your question about car fare?
Joseph: Yes.
Mirsky: The care manager can tell Mary about her transportation benefit to get a ride to the doctor's office. She might also qualify for short-term delivery of meals. The care manager can connect her with a cooking class at the local senior center to learn healthy meal preparation. There's more, too. An aide can come to Mary's home to make sure she takes her medication.
Mary is just one example of how the services and support from various Medicare plans are being expanded to help meet your physical, mental and emotional needs. There are also other programs that can address your social and environmental needs. Your health journey is personal, and it's all about evaluating your lifestyle so you can find the right plan for you.
About the author
Christina Joseph Robinson is a veteran editor and writer from New Jersey who still loves to read the old-fashioned newspaper. She's raising two fruit-and-veggie loving daughters to balance all the treats Grandma sends their way. Christina's health goal is to resume her workout routine after being sidelined by injuries.