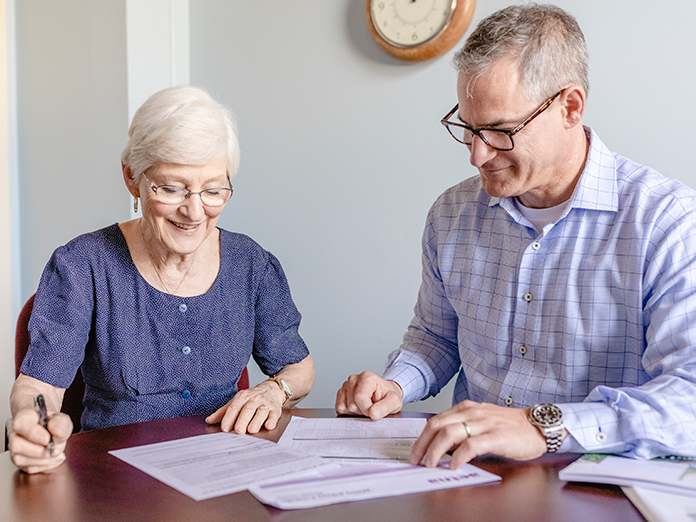 When you're trying to reach a goal, other people can help keep you on track, show you the ropes and share advice. This is also true when you're making decisions about Medicare coverage.
You may not know it, but there's a whole team of professionals who can support you along your Medicare journey. Insurance agents, call center reps, doctors and pharmacists are just some of the experts who can help. Whether you need to choose a Medicare plan or want to take advantage of Medicare benefits you already have, they can set you on the right path to meet your health goals.
You don't have to travel this road alone. Here are a few of the people who can help you along the way.
Insurance Agent
Whether you're new to Medicare or looking to switch plans, an insurance agent (also known as a broker or adviser) is a good bet for comprehensive guidance about your choice of Medicare plans. Nobody expects you to be a Medicare expert. Many people need a pro in their corner who knows these plans inside out. Taking the first step of finding a agent will give you the confidence to pick the plan that's best for you.
Jim Soucy, a licensed independent agent in Providence, Rhode Island, says he tries to simplify the process for his clients. He says you shouldn't have to guess which plan is right for you. In fact, think of your agent as a teacher. If you're new to Medicare, an independent agent will lay out plans and carriers that are available in your state and walk you through their benefits. "An agent can shop the market for you and figure out the best solution based on your situation," he says.
If you're currently on Medicare, your agent can help you decide whether your current coverage remains the best option for your health goals and budget. Agents can also help you avoid budget-busting penalties that can result from failing to sign up for some parts of Medicare on time.
Jim is there for his clients anytime they need advice, not just when they are choosing a new plan. "It's a relationship for the long haul," he says.
Not sure where to find an agent? Check with your financial adviser, doctor, accountant, elder law attorney or employee benefits administrator. You can also contact your state's health insurance assistance program (SHIP) — a national service offering one-to-one counseling to Medicare recipients and families.
Read more of Jim Soucy's advice about what to look for in an insurance agent.
Call center representative
After you've enrolled in a Medicare plan, you may still have a few questions from time to time. Call center reps are there to help you make sense of your plan and work toward your health goals. They can answer many general questions about Medicare or point you in the right direction if they don't have the answer.
"I just give them a little guidance if they need some help on where to go or what to do next after that first call," says Cameron Gaynor, an Aetna call center rep in Fresno, California.
If someone wants to enroll or switch plans, Cameron can guide them to the right section on the website. Or if they want more personalized service, he'll give them the number for a licensed agent. For questions about health issues, he explains that their benefits may include a 24-hour nurse hotline.
The bulk of Cameron's calls, however, come from customers asking about their specific Medicare plan. Some common issues and questions call center reps handle include:
Finding nearby doctors.
Navigating the website. "Where can I see my list of claims?"
Estimating the cost of a procedure. "I'm going into the hospital for an operation. How much will it cost?"
Researching specific benefits. "Are chiropractic visits covered in my plan?"
No question is too small. Call center reps are there to help you make the most of your plan benefits. "Our customers are very grateful," Cameron says. "I can't tell you how many times a call will end with a sigh of relief. They'll start off not knowing where to even start, and by the end of the conversation they'll have a game plan." 
Need to contact a call center rep? You can find the number on your insurance card and your insurer's website. 
Find out more about how call center reps can help you on your Medicare journey.
Primary care doctor
Your doctor is there for you — and not just when you're sick. Doctors can be a source of support during your Medicare journey. After all, who knows better about how to make headway on your health goals?
John Moore, DO, an Aetna medical director and senior health specialist, says there's no better time to get advice from your doctor than during your annual check up. That check up, by the way, is fully covered by Medicare. "Put that appointment at the top of your to-do list. Think of it as your time to address any and all health concerns," he says.
Primary care doctors can also guide you to the Medicare programs and specialists that are appropriate for you. It's one of the best ways to make the most of your benefits. Can't remember which test is coming up? Your doctor can make sure you stay up-to-date on preventive screenings, such as mammograms and colonoscopies.
Need to ask a question or get a recommendation outside your annual visit? Call the office – if your doctor isn't available, their staff is trained to assist you. Or find out if the practice uses an online patient portal. These secure sites allow you to send and receive messages 24/7.
Remember, you don't have to navigate your health alone. "We give members personal attention to answer questions about all of these things," Dr. Moore says.
Read on for more advice from Dr. John Moore.
Pharmacist

Forty percent of people over 65 take five or more medications a day. But even if you're taking just one medication, you may still have questions. Your pharmacist can help. These highly trained professionals don't just dispense drugs, they can talk to you about how your medicine works and how much it costs.
Erin McKenna, an Aetna pharmacy director in Pittsburgh, Pennsylvania, says pharmacists are an often-overlooked member of your support team. "Your pharmacist is there to be a resource," she says. "If you have questions, having a comfortable conversation can be beneficial."
Some basic questions:
"Should I take my medicine with food?"
"I forgot to take my medicine. What should I do?"
"What are the side effects of this drug?"
If you get all your prescriptions filled in the same location, your pharmacist can let you know if certain drugs you're taking don't work well together. You can also ask them about over-the-counter medications and vitamins.
And don't be afraid to let your pharmacist know if you can't afford a certain medication. They can recommend less expensive options, and double-check with your doctor if it can be replaced with an alternative drug. Many pharmacists also know about financial assistance programs that are offered by Medicare.
Erin encourages everyone to call or visit their local pharmacy for a chat. If your pharmacist is busy, leave your number so they can call you back.
Learn more about how Erin McKenna helps patients manage their medications.
Help is available on your Medicare journey. This diverse support system of professionals is dedicated to educating and guiding you. As Erin McKenna says, "Our job is to help folks live a healthier life."
About the author
Christina Joseph Robinson is a veteran editor and writer from New Jersey who still loves to read the old-fashioned newspaper. She's raising two fruit-and-veggie loving daughters to balance all the treats Grandma sends their way. Christina's health goal is to resume her workout routine after being sidelined by injuries.